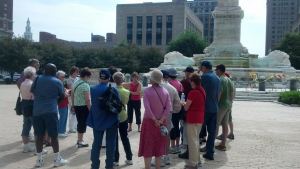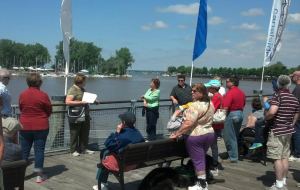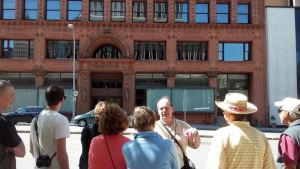 What do Explore Buffalo docents do?
Volunteer docents lead all of Explore Buffalo's walking tours, including regularly scheduled and private group tours for the general public, and school tours for thousands of students from elementary to high school. With hundreds of tours given each year, there are many opportunities to participate!
Why become a docent for Explore Buffalo?
Being a docent for Explore Buffalo is FUN! What could be more thrilling than showing people from around the world Buffalo's incredible architecture and history?
Explore Buffalo is a docent-run organization, with a board of directors composed of active docents and volunteers, so your efforts will be supported and appreciated.
Being a docent is a great way to meet new people within Explore Buffalo or among our many community partners. Explore Buffalo organizes regular social events for docents and volunteers.
Who can become a docent for Explore Buffalo?
Anyone can become a docent! All that is required is an interest in and passion for Buffalo's history and architecture.
You are supplied with thorough background information and reading materials, not a script to be memorized. We encourage you to develop your knowledge of Buffalo and your unique voice as a storyteller conveying the growing and changing story of our city.
---
Winter 2017 Docent Training Program
Tour Training
The Winter 2017 Docent Training Program will train new docents in the downtown Masters of American Architecture walking tour. Taking this tour during the fall of 2016 is suggested but not required as a helpful activity in preparation for the Docent Training Course, along with other Explore Buffalo tours.
Class dates & time
Saturday mornings, 9 AM to 12 PM, from February 11 to April 1, 2017
A Graduation Tour will be scheduled on one of the following Saturdays: April 8, 22, or 29.
Weekly attendance is essential; applicants who will miss more than one week due to travel commitments, etc. should consider other volunteer opportunities with Explore Buffalo. Due to space constraints for the Docent Training Program, we are unable to accept docent trainees who will miss multiple weeks.
Location
Classroom sessions will be held at First Presbyterian Church on Symphony Circle.
Field sessions for the specific tour training will take place at various downtown locations.
Information Sessions
There will be two Information Sessions for the Winter Docent Training Program. This will be an overview of the Docent Training Program and an opportunity to ask questions about the Program. Attendance at either Session is encouraged but not required. Each Session will be approximately one hour in length at First Presbyterian Church of Buffalo at One Symphony Circle, Buffalo, NY 14201.

Saturday, November 12 at 10 AM
Tuesday, January 10 at 7 PM

Please RSVP to attend either Information Session to brad@explorebuffalo.org
Application process
Anyone interested in joining the Docent Training Program should fill out the online Application form available below as the first step of the application process. The application deadline is Monday, January 23, 2017.
After reviewing your application, Explore Buffalo will contact you with a phone call to discuss the program and your interests in Buffalo architecture, history, and more. Please note that phone calls will be made after January 1, 2017.
Explore Buffalo will notify all applicants regarding acceptance into the 2017 Winter Docent Training Program via email. Space is limited in the Docent Training Program.
Upon acceptance, a course fee of $95 will be required from participants by February 8, 2017. This course fee covers the cost of printing and other materials for the course, and includes a portable microphone, Explore Buffalo messenger bag, and other tour supplies.
Questions? Please contact Brad Hahn at brad@explorebuffalo.org or (716) 245-3032.