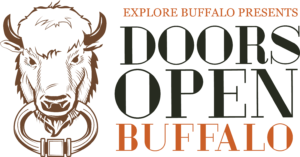 June 15, 2019

Explore Beyond the Doors! 
Mission: Doors Open Buffalo inspires greater appreciation for Buffalo's unique history and architecture through free public access to significant building interiors.
Vision: To build relationships for residents and visitors with Buffalo's history and architecture.
On June 15, 2019, many of downtown Buffalo's most significant buildings will literally open their doors to the public.  Whether it's your first time touring downtown or if you're a seasoned Explore Buffalo tour-goer, this will be a unique occasion to see downtown as you've never seen it before: beyond the doors!  Discover areas of buildings not usually open to the public and access to floors with a birds eye view of our beautiful city.  And it's all free!
Stay tuned as we will begin to post information about the participating buildings soon!
---
For Buildings
Are you a building owner or manager interested in participating in Doors Open?  Please review our criteria below and inquire with Explore Buffalo to find out if your building qualifies for this year's event!
Contact: Suzanne Ernst, Project Manager, Suzanne@ExploreBuffalo.org
Office: (716) 245-3032
---
Support Doors Open Buffalo 

As a free public event, Doors Open Buffalo relies on philanthropic support of sponsorships, donations, and grants. Please consider supporting Doors Open Buffalo in one of the following ways.
Sponsor: Sponsorships for Doors Open Buffalo 2019 are currently available!
Donate: Donations can be made to Explore Buffalo to support Doors Open Buffalo. All donations to Explore Buffalo are fully tax-deductible. Donate Now
---
Volunteer
We will need many enthusiastic volunteers in order to make Doors Open Buffalo a success!
Please email Suzanne Ernst at Suzanne@ExploreBuffalo.org if you are interested in being a part of this exciting event.  We will send more information to you in early 2019 on assignments, trainings and shifts.
---
Learn More
Explore Buffalo is thrilled to put our city on the map as the newest Doors Open city. Learn about the success of the Doors Open movement all around North America! Selected news articles about Doors Open events in other cities: