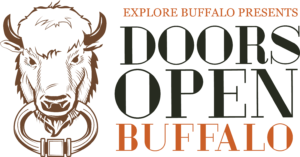 Join us for Doors Open Buffalo 2022 – In the Neighborhood!
~ Timed Tickets for the Central Terminal and 1021 Broadway are now sold out.  ~ 
Print copies of the program will be available at all participating locations listed above on Saturday, September 24.
Doors Open Buffalo FAQs: 
Q. What is Doors Open Buffalo? 
A. Doors Open Buffalo inspires greater appreciation for Buffalo's unique history and architecture through free public access to significant building interiors.  Our vision is to build relationships for residents and visitors with Buffalo's history and architecture.
Doors Open Buffalo hosted 6,000 attendees in 2021 when 35 downtown buildings opened their doors for touring.  This year we will be hosting a series of smaller events.  The downtown event will return in 2023.
Q. When and where is Doors Open Buffalo?
August 24 – Seneca One Dinner Experience to Benefit Doors Open Buffalo
September 17 – Museums & Culturals Day – Enjoy discounts at many of Western New York's museums!
September 24 – Featured Neighborhood – Broadway-Fillmore – Tour inside of buildings in this historic district!
Weekly Houses of Worship Music Series – Tours & concerts throughout September
Q. Will I need to register for these events? 
A. Free registration will be required for the Houses of Worship Music Series and the September 24 Broadway Fillmore Neighborhood Day.