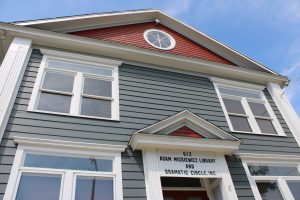 312 Fillmore Ave., Buffalo, NY 14206
Władysław Zawadzki, late 1890's
Last admittance: 3:30pm; Photography permitted; Filming permitted; Tripod permitted; Not handicap accessible; Public restroom; Public parking
Visitor Experience:
Our historic clubrooms and theater are located at 612 Fillmore Avenue. The structure, which dates from the late 1890s and was renovated and enlarged in 1917-18, was designed by noted local architect Władysław Zawadzki. Over the years we have been graced with many important visitors including Cardinal Jan Wojtyla, who became Pope John Paul II, Legendary Polish pianist, composer and statesman Ignacy Paderewski, and Polish Novelist Wladyslaw Reymont, to name a few notable guests.
We have undertaken major renovations in the past few years in concert with our partner Torn Space Theater. Our hall has been transformed into a state of the art black box theater, while the clubrooms have been respectfully renovated and our library with its unique collection of Polish language books is being reorganized and redecorated. Please stop by to see our progress.
Background:
The Adam Mickiewicz Library and Dramatic Circle is proud to be honored as the Cultural Organization of the Year. Our home has been a landmark for over 125 years on Buffalo's Polish Eastside. The Circle was founded in 1895 in a house on nearby Townsend Street by Polish immigrants eager to promote their culture in their adopted nation. Joseph Slisz, a bookseller who was persecuted for promoting Polish culture in the Prussian partition, led his fellow Poles into establishing a cultural institution and social club where folks could come together for literature, music, theater and camaraderie. Our founders were on to something good as now the Circle has survived to become the oldest Polish organization in the Buffalo area and the oldest operating theater.