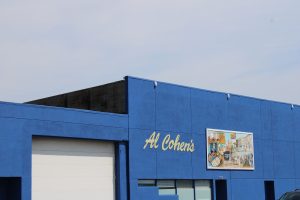 1132 Broadway, Buffalo, NY 14212
Władysław H. Zawadzki, 1906
Last admittance: 3:45pm; Photography permitted; Filming permitted; Handicap accessible; Public restroom; Limited public parking
Visitor Experience:
Visitors will be able to view the exterior of the building and have limited access to the lobby. In the lobby are five great displays which explain the progression of the business. Al Cohen's will have samples of pizza and rye bread available.
Background:
The 1132 Broadway building was designed by prolific area architect Władysław H. Zawadzki in 1906. It was built as a bakery for Edmund Hodkiewicz. The original 3 story building with a Mansard roof and tower was significantly altered to the current building.