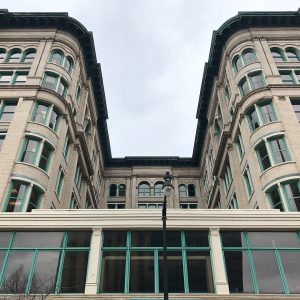 Brisbane Building
403 Main St.
M.E. Beebe & Son, 1895
Last admittance: 3:15pm
Visitor Experience: View the new C. Stuart and Jane H. Hunt Art Gallery!  If available, guests may be able to view the progress of the lobby restoration.
Building Description: The Brisbane Building is a cornerstone of downtown Buffalo.  It was designed by Milton Beebe and erected in 1895.  It has weathered the Pan Am Exhibition, two World Wars, a banking crash and remains well occupied and positioned for the future following an extensive restoration program.
The building at one time had a very significant retail presence including Woolworth's and Kleinhans Department Store.  These days, the building is home to a variety of professional tenants as well as a cutting-edge art gallery and the Beebe's at the Gallery Event Center.