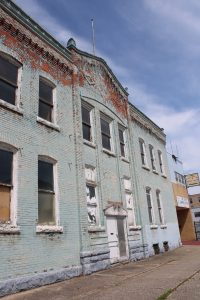 662 Fillmore Ave. Buffalo, NY 14212
Otto Wolf, 1899
Last admittance: 3:50pm; Photography permitted; Filming permitted; Not handicap accessible
Visitor Experience: Come take a sneak peek of a turn of the century bottling hall of the former Schreiber Brewing Company. You will be able to see the space prior to renovations. We will also be hosting a fundraiser concert in the parking lot during Doors Open!
Background: The interior of this two story brick building includes high-bay industrial spaces as well as warehouse and office space.  The Mural Room has murals painted by Copenhagen Artist Johannes Nielsen.  These depict the history of brewing from ancient Egypt to the more recent scientific period showing images of Louis Pasteur and Emil Christian Hansen.  The murals have since been purchased and removed from the building.
The brewery was designed by mechanical engineer and architect Otto Wolf of Philadelphia.
Anthony Schreiber was a Polish immigrant originally named Pisac or "to write."  He changed his name to Schreiber ("Scribe") to compete with the German brewmasters.  During Prohibition, he stayed open by manufacturing other products such as Manru coffee.  Manru was the name one of Paderewski's operas.
The architect for the company offices was Wladwyslaw H. Zawadzki with a building constructed in 1909.
The Schreiber Brewery operated from 1899 to 1950.