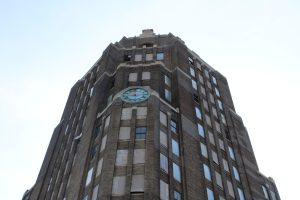 Limited, free Timed Tickets are required to enter this building.  
Timed tickets for this building are now sold out.   Due to safety and insurance limits set by the building, only those with timed tickets are permitted to enter the building at their designated times.  No exceptions can be made.
495 Paderewski Dr., Buffalo, NY 14212
Fellheimer & Wagner, 1929
Last tour: 2:30pm; Photography permitted; Filming prohibited, Tripod prohibited; Handicap accessible, first floor only
Visitor Experience:
The Buffalo Central Terminal is an iconic and prominent feature of the Broadway-Fillmore neighborhood that holds a special place in the hearts of Western New Yorkers.
Having been closed to the public since 2020, Doors Open Buffalo visitors will have an exclusive opportunity to view the iconic Passenger Concourse and former Restaurant areas before they undergo a major transformation thanks to significant public and private investment provided by the Regional Revitalization Partnership.
Ticketed tours will be self-guided with access to our knowledgeable tour guides and hard hats will be provided and required.
Background:
Built in 1929 by renowned architects Fellheimer and Wagner, the Buffalo Central Terminal is an Art Deco icon listed on the state and national registers of historical places. The nonprofit Central Terminal Restoration Corp. has led preservation efforts since purchasing the property in 1997, including the 2021 community-driven Master Plan that re-establishes the Terminal as a vibrant local and regional destination for year-round arts and cultural events. The Buffalo Central Terminal reuse has unprecedented momentum and will be a catalytic force for broader community-driven revitalization in Broadway-Fillmore.