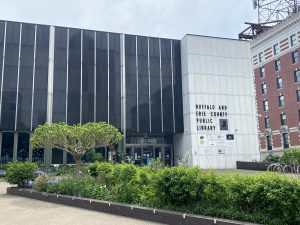 Buffalo & Erie County Public Library – Downtown
1 Lafayette Square
Extended Hours: 9am – 5pm
Photography and filming permitted.
Fully handicap accessible.
Restrooms available.
Visitor Experience:
lnsider view of this extraordinary building! 30 minute tours offered on the hour, led by Library staff, will begin at the Washington Street main entrance and will include an overview of Library services and history, visits to all current exhibits (B is for Book, Mark Twain Room, Four Centuries of Bookbinding: The Jordan Collection), The Grosvenor Room local history/genealogy area, and a peek at the massive behind-the-scenes Tiers where the books are stored. A hands on activity for kids/families will be offered plus a free jazz concert at 2- 3:30 p.m.
Building Description:
The Central Library at 1 Lafayette Square opened in 1964. The present building was designed by local firm Kideney Architects to house an urban library branch and the centralized collections and functions of today's County-wide, 37-site Buffalo & Erie County Public Library System. Its unique design encompasses 400,000 square feet of space — 2 city blocks big and 5 stories tall (2 of the floors are the non-public storage areas for over 3 million items), featuring 57 miles of shelves and the Library's peerless 40,000 item Rare Books & Special Collections. Display areas for collection-based exhibits, office spaces for library staff and 6 co-tenants, community meeting rooms, computer training lab, Launch Pad makerspace, and a renovated 300-seat auditorium are based here. The Library building, owned by Erie County, replaces an earlier one (in service I887-.l963) on this highly visible site in the center city. At this location (previously the site of Erie County's earliest courthouse and jail) Library services co-existed with the early collections that originated today's Buffalo Museum of Science, the Buffalo History Museum and the AKC Art Museum – a true cultural center!