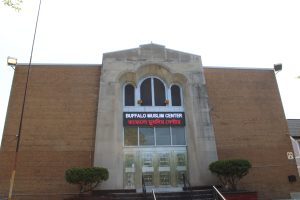 995 Fillmore Ave., Buffalo, NY 14211
Last admittance: 3:30pm; Photography permitted, Filming permitted; Not handicap accessible, Public restrooms, Public parking
Visitor Experience and Background:
995 Fillmore Ave. Buffalo, NY is a religious worship (Masjid) property. Approximately 12,604 square feet of living space and built in 1960, it offers congregational prayer five times every day.
Visitors will be asked to remove shoes before entering the Mosque area of the Center. Between 1:30pm and 2:00pm, prayers will take place in the Mosque.  Visitors may sit or stand quietly at the back of the room during this time.