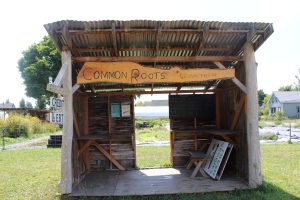 309 Peckham St, Buffalo, NY 14206
Last admittance, 3:45pm; Photography permitted; Filming permitted, No public restrooms
Visitor Experience:
Common Roots has been serving this neighborhood since 2012. It is a little more than 1 acre on the corner of Peckham and Coit Streets in Buffalo. It uses natural and sustainable methods using locally made compost. Crops grown include cherry tomatoes, fingerling potatoes, cucumbers, peppers and more. The farm stand is open Thursdays from 4pm to 6pm.
Background:
Common Roots provides the community with healthy food at affordable prices. The Farm stand is open June through September and at the Roswell Farmers Market from 11am to 1:30pm