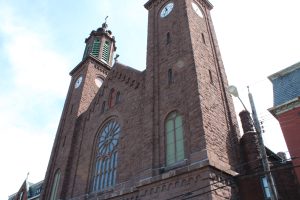 199 Clark Street, Buffalo, NY 14212
Schmill and Gould, 1909
Opens: 11:00 AM; Last admittance: 2:45pm; Photography permitted; Filming permitted; Tripod permitted; Handicap accessible; No public restrooms; Public parking
Visitor Experience:
Guided tours will be given by church volunteers. The awe-inspiring church interior features some of the finest ecclesiastical art in the city including a rendering of Raphael's famous Disputa, exquisite stained-glass windows and a featured rose window made by Franz Mayer in Munich, Germany. The walls of the church are graced with 6 large Madonnas, reproductions from the famous Marian Shrines in Poland, angels on canvas symbolizing the Blessed Sacraments and much more.
Background:
Corpus Christi Church was first established in the late 1800's by the Franciscan Friars to accommodate a rapidly growing Polish immigrant community. The present 1909 Romanesque Revival church was designed by noted architects Schmill and Gould and built of beautiful Onondaga Limestone and red Medina Sandstone. The gold crosses atop the copper domes of the twin towers are filled with hundreds of letters written by the Parish's children. This church rises like a "skyscraper" in Buffalo's East Side, proud of its rich history, struggle to survive, and the dedicated volunteers whose efforts have breathed new life into this church listed on the National Register of Historic Places.