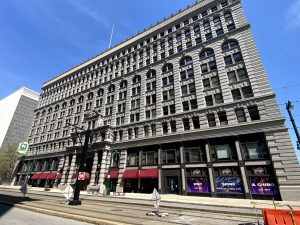 Ellicott Square Building
295 Main St.
Last admittance: 3:45pm
Photography and filming permitted. Tripod not permitted.
Handicap accessible – first floor
Restrooms available.
The architecture of Ellicott Square may be termed "Italian Renaissance," with refined and classical ornamental features.  To the top of the second story, the outer walls consist of granite, iron and terra cotta, with a veneer of pearl-gray black and terra cotta trimmings above – the whole being adequately crowned with a cornice of massive proportions and great beauty.  The effect was to reproduce the quiet dignity, repose and impressive grandeur of the great palaces of Rome and Florence.
The ornamentation lavished upon the two main entrances on Main and Washington Streets, each of which is carried to the top of the fourth floor and enriched with fine detail and sculpture, serves to diversify the uniformity of the façade as well as to indicate clearly the passage way to the Central Court and the passenger elevators.  The floors and sidewalks of the vestibules consist of Mosaic and raze marbles, so arranged as to produce the richest and most artistic color effects.  From each of these vestibules, eight elevators of the latest and best type and a grand staircase of ornamental iron with marble treads and gift decorations give easy access to the floors above.
However, the most extravagant feature of Ellicott Square which distinguishes it from all lesser office structures is the great rectangular Central Court, which is finished in Italian marble, with a mosaic floor and glass roof.  The gorgeous floor of the interior court is crafted of many colored sun symbols used by various ancient civilizations.  In the center of the floor, a central disc showing points of the compass is surrounded by a chain symbolizing the strength of business organizations in the whole united States  From the main floor, two grand stair cases, one at either end, rise to the balcony which encircles the banking floor.  The "Grand Court" gives abundant light and air to all the interior offices and provides on the Ground Floor a public, social and business exchange large enough for mass meetings.