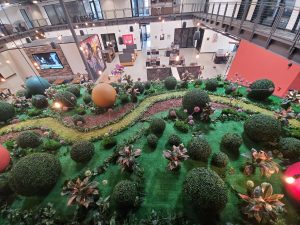 HANSA Workspace
505 Ellicott St.
Last admittance 3:30pm
Photography permitted.
Fully handicap accessible.
Restrooms available.
Visitor Experience:
What's an office? In an era where the role of the office is under debate, HANSA workspace represents a bold take on what a productive workspace can be. With award-winning art, décor, layout, and design elements that celebrate our region's industrial heritage and ongoing renaissance, HANSA is a uniquely Buffalo workspace for Western New Yorkers. Doors Open visitors will experience the range of workspaces, private offices and suites, conference rooms, wellness areas, and lounge space that empower HANSA members and guests to work more productively, collaboratively, and creatively.  Only one staff member will be conducting tours.
Building Description:
Opened in 2020 at the site of a former automotive warehouse in downtown Buffalo, HANSA is reimagining how workspace is designed and functions. HANSA powers a new era of productivity and collaboration with broad amenities that promote health, happiness, and productivity. 20 people at one time. HANSA workspace is a two story, 32,000 SF hub for coworking and shared office space, event and meeting facilities that is the first coworking center in North America to be Universal Design certified for its inclusive features.
As a champion of Buffalo's industrial heritage and its modern renaissance, the building renovations included a new brick façade and patio to connect with the streetscape. The interior welcomes members with new skylights and windows for a bright, open environment that is optimized with a second-story mezzanine and two grand staircases.
HANSA is brimming with chic industrial design, a fusion of modern office and residential furniture complemented with a large original mural, local artwork, and contemporary décor.
The ethos of flexibility begins with the lobby of HANSA. The visibility of the main lobby from the exterior made it a key space to create a lasting first impression that not only grabs your attention but makes you curious about what happens here. For this reason, the lobby not only functions as the spot for daily check-in but is also another part of the building that can be utilized for collaborating, taking a phone call or holding an informal meeting. Aside from the lounge sofa and chairs, there are mobile ottomans with tablet arms set up for the convenience of members. Also, HANSA's Studio/Podcast room is located in view from the lobby, which gives people the unique opportunity to watch podcasts and presentations produced in real-time.
Visually, everyone at HANSA is connected. The floor plan is an open design layout with a centralized atrium space on the first floor. Glass wall-lined corridors, a functioning garage door, and an open second floor mezzanine maximizes views of the space. The conference rooms have a frosted film on the glass to enhance privacy inside but are clear above and below to provide natural light into the space.
Biophilic design was another aspect that was important to enhance the wellbeing of HANSA members. Biophilic design is the connection of interior building space to the natural environment, to create a better occupant experience. This is reflected in the design of the Wellness Room, the incorporation of skylights and exterior windows to provide natural light, the glass garage door with views and access to the outdoor patio, and the whimsical flower garden on the second floor.
Created and managed by Uniland Development Company, the region's largest commercial real estate developer, HANSA workspace is Buffalo's first full service coworking center and was built specifically for the Queen City. At near full capacity, HANSA is home to numerous members from local entrepreneurs 5 and startups, to sales associates and field staffers for global organizations, and dynamic local businesses.
HANSA is one of the most-lauded workspaces in the region, having been recognized with awards from Buffalo Business First; NAIOP, the Commercial Real Estate Development Association; Buffalo Business First, the Building Owners and Managers Association of Greater Buffalo; and Erie County, respectively.