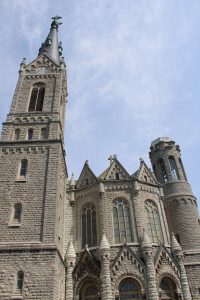 938 Genesee St., Buffalo, NY 14211
Adolf Druiding, 1886
Last admittance: 4:00pm; Photography permitted; Filming prohibited; Tripod permitted; Handicap accessible on first floor only; Public restrooms
Visitor Experience:
Visitors will see the beauty of the historic landmark and former St. Mary of Sorrows Church, award winning architectural design and repurpose of a church landmark to accommodate classrooms and exciting and innovative, educational programs addressing the needs of people of all ages on Buffalo's East Side.
Background:
Romanesque arches, stained glass windows, beautiful handpainted ceilings, Rhemish Romanesque church buldt by Adolf Druiding in 1886. All programs are free to families. Programs include ParentChildPlus National Program to encourage early literacy and school readiness for ages 18 months to 5 years with 60 families served annually, After school STEAM Team Program (K-8th grade) with 25-30 students annually served and Summer Camp (Say Yes/Erie County Primetime) with 25 to 30 students served.