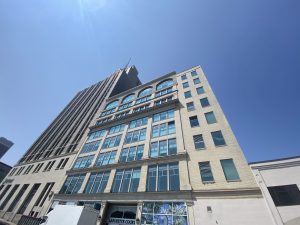 Lafayette Court Building
465 Washington Street
Cyrus Kinne Porter.   1903-1904
Last admittance: 3:30pm
Photography and filming permitted.
Fully handicap accessible.
Visitor Experience:
Upon entering the Lafayette Court Building, the newly renovated entrances and lobby welcomes visitors with refreshed amenity and food options, public art, modern finishes, and a vibrant environment.  Visitors will be greeted by a wall mural created by local artist, Danielle Saeva, a nod to the building's rich history as a department store.  The newly renovated lobby also features a fitness center with new equipment, Ciminelli's renovated management office, and a newly built-out space for The Lunch Box and Lola's, where visitors can grab a bite to eat.
Building Description:
The Lafayette Court Building located at 465 Main Street in Buffalo's Central Business District is an icon.  The 190,000 square foot landmark building was constructed in 1903 and was a popular downtown retail destination including well-known names like Hengerer's Sibleys and Kaufmans.  In the decades that followed, the Lafayette Court Building was transformed into an office building and became home to many office users who were drawn to its prominent downtown location.  With the rise in popularity of downtown office space, an update to the traditional interiors was in order and in 2022-23, major renovations were completed to ensure the future success of the building.
Built in 1903-1904, the neoclassical Lafayette Court Building was designed by the well-known and prolific Buffalo architect, Cyrus Kinne Porter.   Shortly after construction, a 2-story addition was bult in 1910.  After decades of serving as a retail destination, it was converted in 1987 to a postmodern style office building.  With the rise of downtown office workers, and the creation of M&T Bank's second tech hub with the building, Ciminelli Real Estate Corporation began renovations to the lobby to create a modernized space brimming with amenities.
Upon entering the building, the newly renovated entrances and lobby welcome clients with refreshed amenity and food options, public art, modern finishes and vibrant environment.  The carefully crafted exterior details symbolize the quality craftsmanship, while the sleek interiors represent the city's bright future.