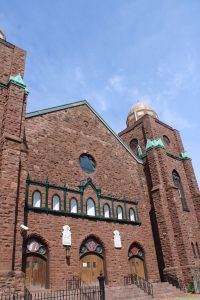 182 Sobieski St. Buffalo, NY 14212 – Use rear entrance on Sweet Ave.

Opens 1:00pm; Last Admittance: 3:00pm; Photography and Filming prohibited; Handicap accessible on first floor only; Public restrooms; Public parking
Dress code: Modest clothing: long sleeves and trousers; no sandals; head coverings required for women.  There is a designated shoe area separate for both men and women where all guests will be asked to take off shoes and place them on the shelves. 
Visitor experience:
A half hour presentation on the historic building and Islamic culture will be from 2:15-2:45pm with a question and answer session afterward.
Background:
This historic building is used for worship along with educating children K-12. The primary goal of the school has attracted Muslims since the 1990's to this part of the city of Buffalo at the time when Buffalo was considered a dying city. The school became an attractive gem for Muslims from all over the U.S. and still continues to attract which has brought many businesses, job opportunities and tax payers and has given an obvious financial/economical uplift over all to the City of Buffalo which cannot be ignored.