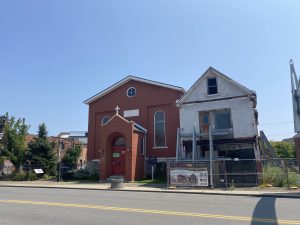 Michigan Street Baptist Church
511 Michigan Ave.
Local African-American tradesmen, 1845-1849
Please note this is an exterior tour only.
Last admittance: 3:30pm
Photography and filming permitted.
Fully handicap accessible. 
Visitor Experience: The Michigan Street Baptist Church has been a symbol of courage and hope for over 150 years. As an Underground Railroad station, it provided sanctuary to Freedom Seekers on their way to Canada. The church witnessed influential leaders like Rev. J. Edward Nash and Mary B. Talbert, who played major roles in both local and national movements. Restoration efforts started in 2020, with the first phase completed, the church unveils its storied past and rightful place in American history. Due to ongoing construction, this is an exterior only tour that details this history.  Depending on the schedule, an archeological dig might be taking place during Doors Open.
Building Description: Constructed by the original congregation between 1845 and 1849, the Church has undergone several renovations throughout its history. In 1907, a baptismal pool was added, and in the 1950s, changes were made to the front facade with the removal of stairs leading to the church. The first phase of construction for its serious restoration work began in 2020 and was completed in 2022, focusing on stabilizing the structure. The next phase, scheduled to commence in the fall of 2023, will entail an archaeological dig, the addition of an annex for increased accessibility, and a restoration of the interior to its original 1849 appearance.