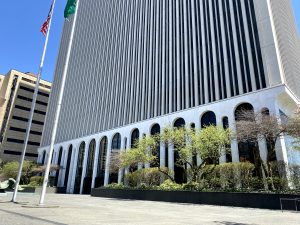 M&T Bank Plaza
345 Main St.
Last admittance: 3:30pm
Minoru Yamasaki, 1967
Photography and filming permitted.  Tripod permitted.
Fully handicap accessible.
Restrooms available.Visitor Experience: Guests are invited to tour the newly renovated 19th Floor to see the Conference Room, Decision Room and the M&T Dining Rooms.
Building Description:
One M&T Plaza is an office tower located in Buffalo, New York and home to M&T Bank. The 21-story international style or New Formalist office tower was designed by Minoru Yamasaki with Duane Lyman Associates and completed in 1967.  The structural steel for the building was produced locally by Bethlehem Steel.  The base of the building is composed of white and green marble with an interior of travertine.  The building also features a 75-by-225 foo exterior plaza.