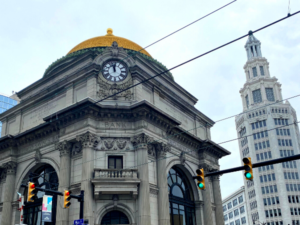 M&T Bank's Gold Dome Branch at Fountain Plaza
1 Fountain Plaza
Green & Wicks, 1901
Last Admittance: 3:30pm
Photography and Filming Not Permitted.
Fully Handicap Accessible.
Visitor Experience: The Buffalo Savings Bank opened in May 1901.  The building's signature feature is the gold-leafed dome, which measures 23 feet tall and 56 feet in diameter.  It is covered with 13,500 terra-cotta tiles.  The tiles have been gilded three times.  The last restoration required 140.000 paper-thin sheets of 23.75-carat gold leaf at a cost of $500,000 (more than the initial cost of the building).  The building contains a 9-foot clock above the main columned entrance.  In 1982, the original bank building received a larger linked addition to the north side called M&T Center.  In 1991, the Buffalo Savings Bank company became insolvent and was dissolved.  The building currently serves as a branch of M&T Bank and has been designated a City of Buffalo Landmark.
The murals that adorn the ceilings were completed in 1926, painted by Francis, Davidson & Savage Painting Company.  At the top of the dome is a quote from ancient Chinese philosopher, Confucius, which reads, "Virtue is not the root, and wealth is the flower."  The golden age of Buffalo is represented with four panels: Commerce, Industry, the Arts and Power.