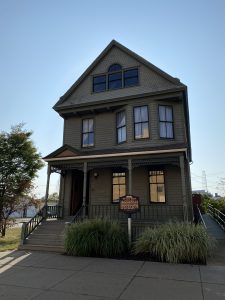 Nash House Museum
36 Nash St.
ca. 1900
Timed tickets on the hour from 11am – 3pm. Max 20 people.
Last admittance: 3:00pm.
Photography and filming permitted.
Handicap accessible on main floor only.
Restrooms available.
Important Message for Timed Ticket Holders!  Please check in 10 minutes prior to your scheduled tour at 136 Broadway, Buffalo, NY 14203.  We will then walk you over to the Nash House for the start of your tour. 
Visitor Experience:
The Nash House, once Rev. Edward Nash's residence, is a testament to Buffalo's African American heritage. Designated a historic site in 1976, it's now owned by the Michigan Street Preservation Corporation. Operating as a museum since 2007, it showcases Rev. Nash's sermons and letters, offering insights into Buffalo's African American community. With exhibits focusing on civil rights, it connects visitors with the past, preserving and sharing the community's struggles and contributions. The museum serves as an educational resource, bridging history to the present.
Building Description:
Opening as a museum in 2007, the house showcases the Nash Family archives and artifacts. The house was built in the late 1800s. It was purchased by Rev. Nash in 1925.