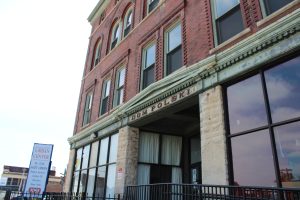 1081 Broadway, Buffalo, NY 14222
Władysław Zawadzki, 1905
Last admittance: 2:00pm; Photography permitted; Filming permitted; Tripod permitted; Handicap accessible first floor only.
Visitor Experience:
Visitors will have the opportunity to experience the original third floor auditorium of the Dom Polski building erected in 1905. The Auditorium was the center of life for Polish-American neighborhood residents in the early half of the 20th Century and continues to be a gathering place for the community today.
Background:
At the turn of the twentieth century, Buffalo's East Side was a Polish metropolis of businesses, churches and social organizations. While the businesses and parishes ahd structures to house them, the clubs, societies, and organizations had to make do in members' homes, church basements, cramped buildings and the back rooms of taverns. All that changed in 1903 when the Polish Library Association decided to build a civic center for Polonia and the Dom Polski was born.
For designing the Dom Polski, or Polish Home in English, Buffalo architect Władysław Zawadzki was hired. Zawadzki envisioned a Renaissance style four story red brick building with a façade of Indiana limestone. Inside there would be room for two stores, meeting rooms, a bowling alley, a billiard room, smoking lounges for men and women, offices and enough space for the 10,000 volumes of the Cztelnia Polska, the Polish Literary Association's library. To top it all of would be a 4,000 square foot auditorium with a 24 food stage with a fourth floor gallery that would give the viewer a vista of the East Side.
Raising funds for the home was a community effort. It would take two years for the library association to find the donors needed to raise $45,000. Organizations big and small contributed as well as individuals, from simple laborers to Polonia's premier industrialist Anthony Schreiber, everyone gave what they could. On July 16, 1905, in front of a crowd of 20,000, a celebration was held during which Father Valentine Swinarski laid the cornerstone for the Dom Polski, with the formal opening being held one year later.