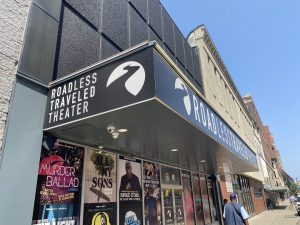 Road Less Traveled Theater
456 Main St.
Last admittance: 3:45pm
Photgraphy and filming permitted.
Fully handicap accessible.
Restrooms available.
Visitor Experience:
In 2018, Road Less Traveled Productions built its premiere, live and intimate theater venue in downtown Buffalo.  In February 2023, the company expanded its lobby three-fold into a full-scale bohemian mid-century modern style cocktail lounge serving up featured cocktails, beer, wine and spirits prior-to and post performances. The theater offers four five-week productions (80 performances) annually as well weekly live comedy improv on Wednesday evenings. Road Less Traveled Theater is the former Baker Shoes building and you can see part of the original terrazzo flooring in the lobby.
Building Description:
Road Less Traveled Theater resides in the former Baker Shoes building which sat vacant for decades until the theater was built in 2018. The theater accommodates 98 guests per performance, allowing for a true intimate theatergoing experience.  When the theater was built, it was an empty shell of only brick walls and the front door entrance and marquee. All of what you see today within the four exterior walls have been redesigned and built by Road Less Traveled Productions. Since building its brand-new theater, the building welcomes 8,000-10,000 theatergoing patrons annually. This season, Road Less Traveled Productions will be celebrating its 20th Anniversary.