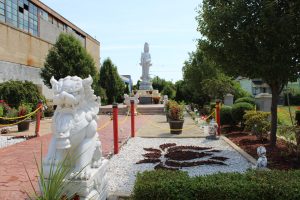 647 Fillmore Ave, Buffalo, NY 14212
Last admittance: 4:00pm; Photography permitted, Filming permitted, Handicap accessible+
Visitor Experience and Background: Adjacent to a former Buffalo Police Station that now serves as the Chùa Tù' Hiêu Buddhist Cultural Center is an oasis of serenity: a meditative garden unique in the City of Buffalo. The ceremonial entrance on Fillmore Avenue is marked by four decorative marble pillars. Upon entering, the eye is drawn toward the back of the garden to a towering marble statue made even taller by the stepped foundation and double lotus base she stands upon. Surrounded by a container garden, plantings, and other smaller statuary, the majestic sculpture peacefully dominates the tranquil space.