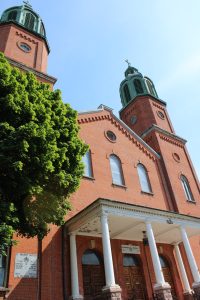 212 Stanislaus St., Buffalo, NY 14212
R. Huber & Company, 1890
Last admittance: 4:00pm; Photography permitted; Filming permitted; Tripod permitted; Handicap accessible on first floor only; Public restrooms
Visitor Experience:
Saint Adalbert Basilica is a historic Roman Catholic church located in Buffalo's Historic Polonia District, and is one of the city's most impressive houses of worship. It is a prime example of the Polish Cathedral style of church architecture in both its opulence and grand scale. A rare and special designation bestowed on the parish occurred in 1907, when the Vatican proclaimed St. Adalbert a basilica, the first in the USA. The proclamation can be viewed to this day in the basilica's museum room.
Background:
Saint Adalbert Basilica was founded in 1886 with the current structure built with Romanesque and Byzantine influences completed in 1891. The brick structure is 240 feet high, 118 feet wide with a nave of 70 feet. Its two towers are 150 feet high with a dome 40 feet wide and soaring 125 feet above the main nave. The church's intricate stained-glass windows were imported from Germany and its magnificent altar has carved marble railings, sculpted angels above it and a detailed sculpture of the Last Supper adorned with gold mosaic tile along the base of the altar. The Black Madonna painting at the side altar was displayed at the Pan-American Exposition in 1901.