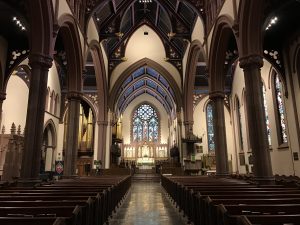 St. Paul's Episcopal Cathedral
139 Pearl St.
Richard Upjohn, 1851 & Robert W. Gibson, 1890
Special Hours: 10:00am – 2:00pm
Last admittance: 2:00pm
Photography and filming permitted. Tripod permitted.
Fully handicap accessible.
Restrooms available.
Building Description: Richard Upjohn designed St. Paul's Cathedral in the Gothic Revival style. Construction began in the spring of 1850 and was complete in its essentials when the church was consecrated in October 1851.  Spires on the two towers were finished in 1870. 

The church sits on a triangular lot bordered by Church and Pearl Streets, and what is now named Cathedral Park.
After a gas explosion and fire in 1888, Robert W. Gibson was commissioned to supervise the rebuild of St. Paul's, and on January 3, 1890, the church reopened.  St. Paul's Episcopal Cathedral is the cathedral for the Episcopal Diocese of Western New York, and is classified as a National Historic Landmark.  The Cathedral was incorporated on February 10, 1817.