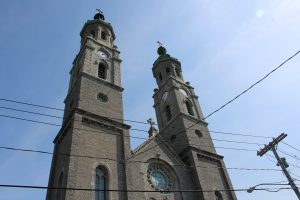 123 Townsend Street, Buffalo, NY 14212
T.O. Sullivan, 1886; Towers completed in 1908
Last admittance: 2:30pm; Photography permitted; Filming prohibited; Handicap accessible; No public restrooms; Public parking
Visitor Experience and Background: Polish immigrants embarked on the construction of this splendid Romanesque building in 1883 using designs provided by T.O. Sullivan. It was built of Jammerthal flint stone with Lockport limestone trim. In 1886, the iconic structure was dedicated and emerged as the "Mother Church of Polonia." The building's two grand clock towers were completed in 1908. The richly colored stained glass windows are in the high quality Munich style. The parish holds the distinction of being the oldest Polish parish in New York State It was honored by the 1976 visit of Cardinal Karol Wojtyla who would become Pope John Paul II just a few years later. A shrine commemorating his visit graces the sanctuary. The parish will be proudly and gratefully celebrating its 150th anniversary this year.