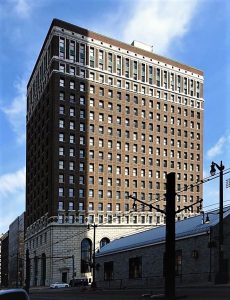 The Marin Building – Priam Property Management
237 Main St.
E.B. Green, 1913
Last admittance: 2:30pm
Photography and filming permitted.
Fully handicap accessible.
Visitor Experience: We're happy to showcase The Admiral Room – our event space.  We will share the Private Dining Room for Vault at 237.  We will tour a residential apartment upstairs (8 people to a group).  We will invite guests to preview the soon to be open Vault 237 restaurant space.
Building Description:  This E.B. Green Building started construction in May 1912 and was completed in January 1913 – only (9) nine months! Formerly and most famously known as "Marine Trust Company" with Marine Midland Bank as its primary commercial space in the building. As of 2019, it's renamed The Marin Building, which is a mix-use building consisting of a ground floor restaurant, first floor event space, 4-floors of commercial space, and 64 apartments.