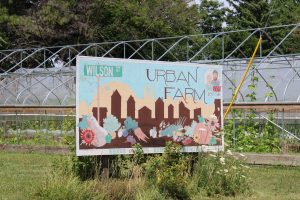 360 Wilson Street, Buffalo, NY 14212
Last admittance: 4:00pm; Photography permitted; filming permitted; tripod permitted; Not handicap accessible; No public restroom
Visitor Experience and Background: A privately-owned, working vegetable/fruit farm. There are two hoop houses, perennial areas, vegetable beds, flower beds, beds leased to local growers and beds planted in cover crops. We sell surplus vegetables during the active growing season at a stand on site. Visitors are welcome to walk on the grassy areas around the growing spaces and to look inside the hoop houses. There are no official tours offered, but we are happy to answer questions.