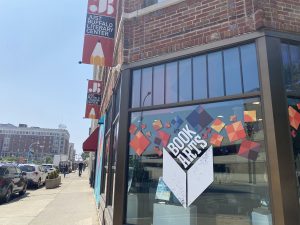 WNY Book Arts Center (Book Arts)
468 Washington St.
John Wingfelder, 1922
Last admittance: 4:00pm
Photography and filming permitted.
Fully handicap accessible.
Restrooms available.
Visitor Experience:
The WNY Book Arts Center (Book Arts) is an educational non-profit dedicated to the preservation and creation of printing and book-related arts, and supporting artists & learners of all ages in their book arts pursuits. Our building houses bookmaking, letterpress and screen print studios, and workshop space for classes and visiting groups, a gift shop of unique artist-made items, and two galleries showcasing the talents of local artists. Visitors to the Center can expect to tour all these unique spaces, and are encouraged to peruse our shop, experience work in our gallery, and try their hand at printing on one of our antique letterpresses!
Building Description:
The building was designed by architect John Wingfelder & built in 1922. Since then, the building has had many tenants (originally split into 5 separate shops), including BonTon Millinery, Slotkins Dress Shop, and most recently The Jewish Review. The building was acquired by the founders of Book Arts Richard Kegler and Carima ElBehairy in 2008 and was opened to the public in 2009. Today, the building is a cultural landmark in the Literary Corridor, housing Just Buffalo Literary Center on the top (2nd ) floor, a non-profit dedicated to strengthening our community through the literary arts. Their space boasts a Writing Center for local high school students, with robust programming. The WNY Book Arts Center occupies the first and lower level floors of the building, boasting an artist gallery, gift shop of handmade items, workshop space, and letterpress & screen print studios. As an educational non-profit, Book Arts preserves the art of hand-printing and bookmaking through fieldtrips, workshops, events & more. Since 2008, this building has been a cultural asset, and we hope it will continue to be so well into the future!