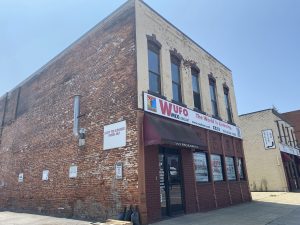 WUFO Black Radio Collective
143 Broadway
Last admittance: 3:00pm
Photography and Filming allowed.
Handicap accessible on main floor only.
Restrooms available.
Visitor Experience:  Visitors will be able to go inside of the recording studios! Established in 1961, WUFO is the sole African American owned radio station in Western New York. In 2013, Sheila L. Brown acquired WUFO, making it WNY's first black, female-owned station. Brown, a respected community icon, aims to create the country's first not-for-profit Black History Collective. Visitors can experience the inner workings of a radio station at WUFO, home to renowned African American radio personalities like Frankie Crocker, Gary Byrd, Jerry Bledsoe, Thelka McCall, Dwayne Dancer Donovan, Don Allen, Don Mullins, and more!
Building Description: The building itself is not particular noteworthy, the history of the Collective is what makes it unique!