tours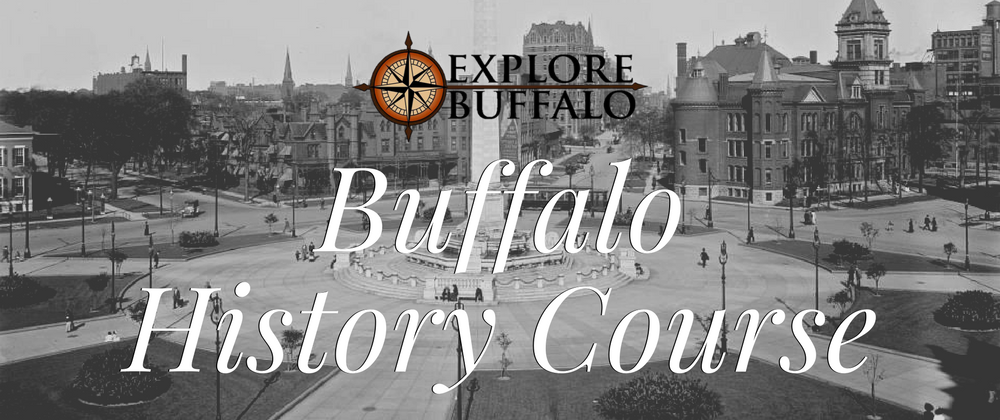 History Course
COST:
General Admission: $40
Student Admission: $35
Explorer Pass Holders: $35
Upcoming Dates:
This course can only be purchased as a whole – individual sessions cannot be purchased separately. 
Tuesdays, February 6, 13, 20, & 27: 7-8:30 pm.
Each session will be 90 minutes in length, including a brief break.
WINTER 2018 COURSE: HISTORY OF BUFFALO
Join us this winter for a unique opportunity to broaden your knowledge about the Queen City! This four-week course will take you on a journey through Buffalo's history, from the indigenous peoples who originally occupied this area all the way to the magnificent renaissance taking place today.
You'll learn about the early settlements in this region & the formation of Buffalo, including its historic street plan and its claim as the terminus of the Erie Canal. You'll be dazzled learning about Buffalo's turn-of-the-century brilliance and our hosting of the famous Pan-American Exposition. You'll discover the tribulations and contributions of Buffalo in times of war, all while tracing the arc Buffalo has followed from brilliance to rust belt to brilliance once again.
If you love our tours, you'll love this chance to deepen your knowledge of all things Buffalo.
This course is taught by Master Docent John Fagant. Sessions will take place on Tuesday evenings in February 2018 from 7:00 – 8:30 P.M.
Week 1: Early History of WNY: 1600 – 1796
Overview of the WNY region from 1600 to 1796 and will discuss:
The Native Americans who lived here at this time
The French & British explorers, traders and soldiers
Emphasis on how the Native Americans lost their land and how Buffalo and Upstate New York formed
Week 2: Buffalo's Beginnings through the Erie Canal: Early 1800s
Early frontier settlement of Buffalo
Joseph Ellicott & Holland Land Company
War of 1812
Erie canal and its importance to the region
Week 3: Booming Buffalo: Mid-1800s through the Turn of the Century
The Rise of Buffalo
Commerce, Rail, & Abolition
The Queen City & Pan-Am Exposition
Week 4: The World War years – Present
A look at the continued rise of Buffalo through two World Wars and Prohibition
The after War decline of the downtown business region and the once great neighborhoods
A brief look at today
Location: Explore Buffalo's headquarters in First Presbyterian Church of Buffalo (across from Kleinhans Music Hall). Parking is available in the church lot, which can be entered from Pennsylvania St., or on any surrounding sidestreets.
This course can only be purchased as a whole – individual sessions cannot be purchased separately.