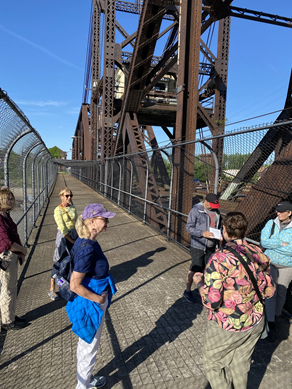 Mack Barker
Education Coordinator
If you live in Buffalo, you've likely heard of Black Rock. You may know it as the location of Wegmans or the Sportsmen's Tavern, and you may even know it was originally a separate village, competing with Buffalo to be the terminus of the original Erie Canal.
Unless you live there, you may not have spent a significant amount of time wandering the streets of this wonderfully diverse neighborhood. Explore Buffalo's Black Rock Tour takes visitors through the streets of this historic village-turned-neighborhood with some beautiful and surprising sights and stories along the way.
Here are a few of the highlights and fun facts of the Black Rock neighborhood:
The original Village of Black Rock stretched from Hertel Avenue all the way down to Porter Avenue, bordered by the Niagara River and Richmond Avenue. It is for this reason that streets on Buffalo's West Side are at a 45-degree angle to the rest of Buffalo's grid system.
Black Rock is named after a limestone rock formation in the Niagara River – literally, a black rock formation that created a calm harbor in the Niagara River, vitally important for commerce. A piece of this rock can be seen at Market Square Park, on the corner of Amherst & Niagara Streets.
Dearborn Street was to Black Rock as Delaware Avenue is to Buffalo, and the grand houses along this avenue reflect that. This includes some of the oldest houses in Buffalo, dating back to the 1830's!
Located in Black Rock is the historic Fire Station no. 15, which has been converted into apartments. The tall tower extending from the building was used to dry hoses after responding to a call.
There are many churches in Black Rock, constructed to serve the needs of the workers and immigrants that populated the area. Of note is the St. John's United Church of Christ, which held its services exclusively in German until the year 1904, as well as St. Francis Xavier Catholic Church, which is now the Buffalo Religious Arts Center.
Black Rock truly is one of Buffalo's "hidden gem" neighborhoods. You can see all of this and so much more by taking our Black Rock walking tour!