Community Cultural Project | Stitch Buffalo
FEATURES:
Community Cultural Project:
Stitch Buffalo
November 2021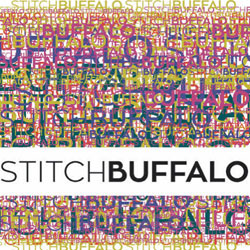 Who We Are
Founded with a simple vision to gather and create. Textile arts like sewing, embroidery and weaving unite many women across cultures, and our goal is to learn from each while building a community of mutual support.

Founded in

2014

Began with small weekly gatherings in a community room, where refugee/immigrant women could gather to stitch and mingle with each other.

Our first partnership with the Anne Frank Project and exhibit at the Czurles-Nelson Gallery occurred in

2015

.

A year later, we began offering embroidery classes and launched the Second Stitch Program.
IN THE PAST SEVEN YEARS, WE HAVE GROWN TO OFFER THREE PROGRAMS: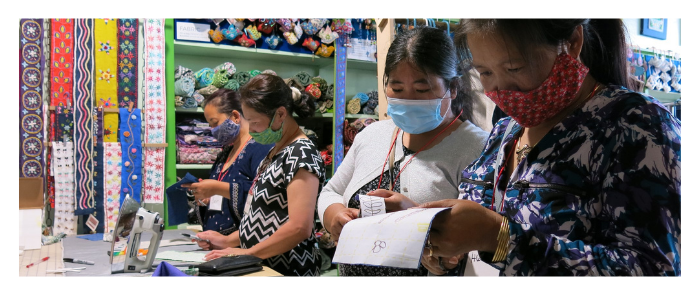 REFUGEE WOMEN'S WORKSHOP
Provides artists with a place to create handcrafted goods and find economic empowerment through sales in our retail shop.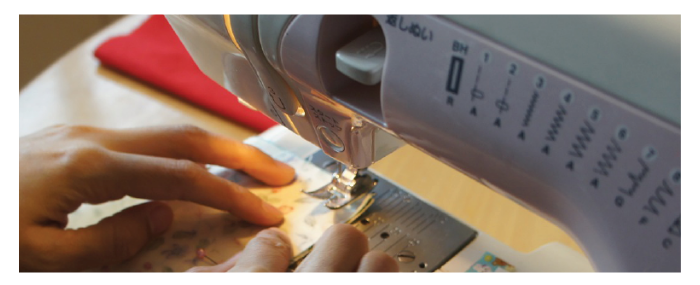 COMMUNITY CLASSES
We offer anyone interested in textile arts the opportunity to expand their skills.
CHECK OUT OUR UPCOMING CLASSES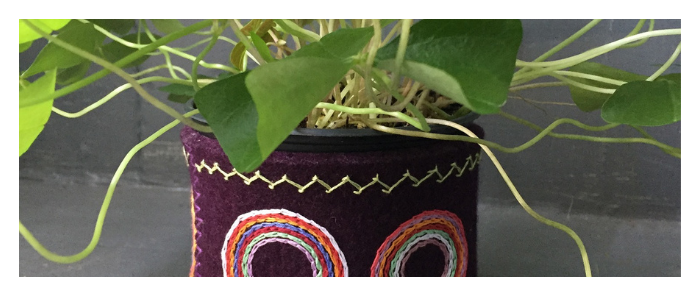 SECOND STITCH PROGRAM
We steward the environment through there-use of textile supplies.
LEARN MORE ABOUT SECOND STITCH

Through all the changes, what has remained consistent is that Stitch Buffalo is a warm, inviting space dedicated to helping people—all people!—feel at home.
We are a tiny microcosm of society and committed to nurturing the self-worth, creativity, and independence of everyone who steps through our doors. There are always smiling faces here, and the opportunity to collaborate freely with staff members, volunteers, and other artists.
---
Workshop Spotlight

Social Justice Stitched Stories Program
This November we're hosting a three-week workshop for our Social Justice Stitched Stories program. Participants in this program include students, artists, community members, and organizational leaders from throughout Western New York who share an interest in building equitable communities.
In small groups, they spend time examining social justice issues and each participant will create a "stitched story" reflecting their area of interest and lived experiences. The final work will be shown in an exhibition at the Burchfield Penney Art Gallery in January 2022.
This program is funded by the New York State Council on the Arts, administered by Arts Services Inc.
---
Our Impact
While we are best known for our Refugee Women's Workshop, Stitch Buffalo serves all kinds of people who are interested in creating textile arts—along with shoppers looking to purchase unique, one-of-a-kind gifts and garments that are created locally and sustainably.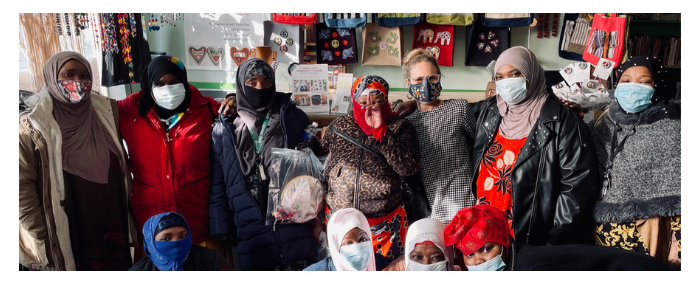 On any given day, you'll find our store/studio bustling with refugee/immigrant artists, community volunteers, staff members, and patrons exploring our boutique or perusing the sewing supplies in our Second Stitch shop.

OUR STORE & STUDIO are located at 1215 Niagara Street in Buffalo, in the heart of the West Side. This location was selected to maximize accessibility for the artists of the Refugee Women's Workshop. We love being situated in a vibrant and diverse neighborhood that is walkable and easily accessible by public transportation.
We believe Buffalo is richer for our diversity, full of unique possibility, and worth celebrating.
Our collective destiny is dependent on how we treat each other. Each and every one of us has talent and creativity in abundance. We all have the right to a safe and happy life. No matter what I look like, where I am from, or how I sound, my heart is open.
As we continue to grow, our plan is for Stitch Buffalo to become a fully functional textiles arts center, with expanded space and creative capabilities that will benefit all of our programs. READ OUR 2021-2026 STRATEGIC PLAN
---
Upcoming Events

November 27th, 10 am-1 pm at Stitch Buffalo Store & Studio on Niagara Street. An ideal first project to gain confidence in sewing machine use and the basics of assembling a project—but with plenty of room to play and express yourself creatively! We'll have fabrics for Christmas, Hannukah, and general winter holiday gift-giving. Cost: $35
November 27th, 2 pm-4 pm at Stitch Buffalo Store & Studio on Niagara Street. Use felt strips to design a stylish holiday wreath—and add some cute bows or flowers to make it complete. Cost: $25
---
Get Involved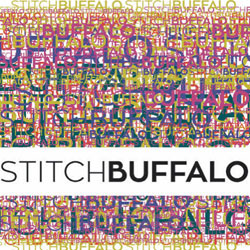 Stitch Buffalo is always open to the public, so we invite you to stop by anytime. You can also sign up for our monthly newsletter for regular updates on classes, sales, everything going on in the studio, and how to become a supporter. 
Location: 1215 Niagara Street, Buffalo, NY 14222
| Email: info@stitchbuffalo.org | Website: www.stitchbuffalo.org