Community Cultural Project | Michigan Street African American Heritage Corridor Commission
FEATURES:
Community Cultural Project: Michigan Street African American Heritage Corridor Commission
September 2021

Welcome to the Michigan Street African American Heritage Corridor!
At The Michigan Street African American Heritage Corridor Commission we endeavor to integrate the African American cultural significance and impact on Buffalo's history through public engagement, community education that will invigorate, inspire and enliven cultural appreciation, preservation, and community development.

Who We Are 
The Michigan Street Corridor has been the

heart of the African American community for

more than 185 years.

Corridor history began in 1836 with the Michigan Street Baptist Church serving as

the epicenter of the abolition movement in Buffalo.

In the decades to follow the Corridor was an

important junction for the desegregation of schools, the Civil Rights Movement, the Jazz Age, and more.

By the 1970s Urban Decay had begun, and

iconic buildings in the corridor began to be torn down.

The few remaining buildings are the work of early preservationists in the 1970s-1990s.

The Michigan Street African American Heritage Corridor Commission was founded in 2007

by way of NYS Legislation to create a historic preservation area on Buffalo's East Side.

The historic corridor runs from Ferry Street to South Division Street.

There are

four core founding cultural anchors

to discover and celebrate along Michigan Avenue including:
---
History Break!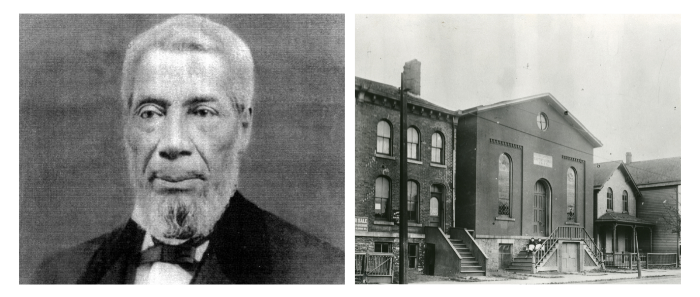 The majority of the early settlers of the Corridor were Freedom Seekers escaping from the bonds of slavery in the south. Individuals came to Buffalo with dreams of making a better life and built a thriving Corridor, oftentimes taking on multiple roles within the community. Samuel Davis was one such individual. Born in 1810 to a former slave, Davis would go on to become a teacher, preacher, and mason who physically built the Michigan Street Baptist Church.  READ HIS FULL STORY
---

What We Do 
The Commission offers educationally focused programs that

highlight local

African American history

in the iconic Cultural Anchors where history is made.
Coordinate tours for anchor sites, Manage group events & educational programming, Provide general administrative support
Advocate for community-based economic revitalization

in historically disenfranchised neighborhoods from urban decay.
Facilitate meaningful economic opportunities for the Corridor with the finalization and implementation of a Strategic Action Plan in January of 2022.
Serve as the vehicle that can

provide the leadership which will preserve the legacy

of the Corridor while building for a better future!
Work with the community to create opportunities for black-owned restaurants and businesses that encompass a wide range of services.
---
New Programs & Events
Traveling Exhibit
September 2021, the Commission will have a Traveling Exhibit available to lend out. The exhibit explores the earliest histories of African Americans in Buffalo and the Michigan Street African American Heritage Corridor and the trailblazers who fought for this community.
We allow schools and libraries to borrow our traveling exhibit as a teaching tool for free. Donations are appreciated but not required. Other organizations may rent it for a small fee. LEARN MORE ABOUT THIS PROGRAM
Community Archaeology Days
Friday, September 17 & 24 // Saturday, September 18 & 25
This project will include demonstrations on how to perform archaeological surveys, information for students looking to get into the field of archeology, and presentations from project leads. Participants will be able to assist the archaeologists with field work by sifting through materials dug up! LEARN MORE ABOUT THESE EVENTS.
---

Painting by William Y. Cooper, Commissioned by the Colored Musicians Club of Buffalo
How to Get Involved
Volunteer
As a growing organization, we are always looking for volunteers! Whether you are interested in serving on a committee or becoming a docent, we would love to have you in the Corridor! To learn more email Project Manager, Audrey Clark, at aclark@michiganstreetbuffalo.org.
Visit
Learn more about the anchor sites of the Michigan Street African American Heritage Corridor and plan your visit! 
Donate
Donations are tax-deductible
Your support will go directly to programs that ensure the legacy and stories of Buffalo's African American forefathers will endure.
Additionally, your donations will allow the leadership of the MSAAHCC to facilitate community-based economic revitalization and be able to address yet unseen urgent priorities.
DONATE HERE!

Phone: 716-322-1002 | Email: info@michiganstreetbuffalo.org | www.michiganstreetbuffalo.org