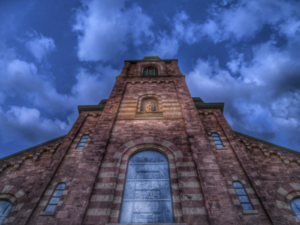 St. Michael R.C. Church
651 Washington St.
Patrick Keely, 1867
Last admittance: 4:00pm
Photography and filming permitted.
Handicap accessible, first floor only.
Restrooms available.
Visitor Experience: St. Michael's offers a blend of old and familiar with strains of 20thcentury art and architecture.  Completed in 1864, it stood tall as a Jesuit institution until a devastating and catastrophic fire in May of 1962.  This fire was caused by a lightning strike and everything except for the outer walls was destroyed.  The only statue to survive the fire was the Sacred Heart statue located in the foyer.
The exterior of the church is much the same as it was before the fire.  However, the interior is somewhat plainer than before.  The huge crucifix with the golden rays emanating from it dominates the rear wall of the sanctuary, and the stained glass windows depict the life of our Lord (see the brochure) in pastels to allow light to filer through.