Join Explore Buffalo's 2024 Young Professionals Program to become an expert on your city! Through this program, you will gain an in-depth understanding of Buffalo's neighborhoods and landmarks, including history and present-day opportunities and challenges. Each month's program will focus on a different area of the city. The program is intended for young professionals who are passionate about Buffalo. This program is an excellent opportunity for those who have recently moved to Buffalo and want to build roots here, as well as for WNY residents who want to learn more about their hometown. The 2024 Young Professionals Program is presented with generous support from National Fuel. 
Goals for Participants
Building stronger connections with specific neighborhoods and the Buffalo community as a whole.
Developing an in-depth understanding of Buffalo history and neighborhoods.
Expanding your network in the Buffalo community by engaging with fellow program members throughout the program, and with community leaders each month.
Strengthening your local roots as an engaged and informed member of the Buffalo community.
2024 Program Schedule:
We'll gather from 2-6pm on the second Thursday of every month from April to December: April 11, May 9, June 13, July 11,  August 8, September 12, October 10, November 14, and December 12. If we have to make a change to this schedule, we'll let you know well in advance. We may also provide some occasional bonus opportunities for program members.
For each program, we'll start at 2pm with an in-depth tour of a landmark building or neighborhood, followed by a conversation with neighborhood or industry leaders connected with that day's focus. We'll end with a happy hour in the neighborhood, and the program will be wrapped up by 6pm.
We will provide the full schedule to participants before the program begins in April. Example locations from our 2023 Young Professionals Program include: downtown Buffalo, the Michigan Street African-American Heritage Corridor, Broadway-Fillmore, the Larkin District, Silo City, Black Rock, and the Village of Lancaster. We've met with community leaders including the Executive Editor of the Buffalo News and the Mayor of the Village of Lancaster and engaged with partner organizations such as Buffalo Niagara Waterkeeper and the Stained Glass Association of America.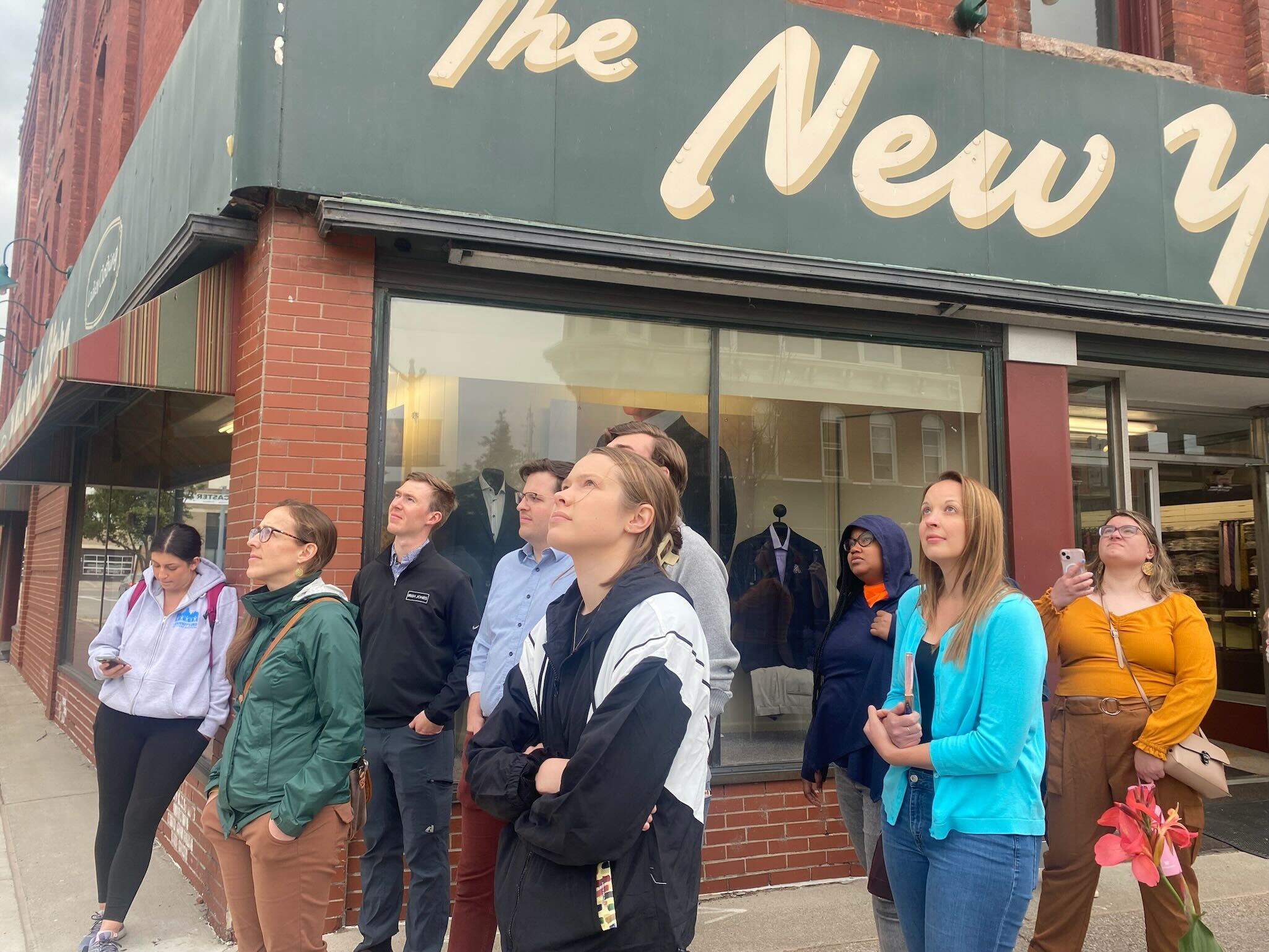 Program Details
Suggested age range: 25-40
Program Fee: $450. Your company/organization can cover your program fee. Scholarships are available on request. There is no fundraising component or expectation in this program.
Maximum of 25 program members.
Accessibility accommodations can be made upon request.
Each program member will receive a two-year Explorer Pass membership to take additional tours during and after the program. The Explorer Pass membership provides you with free access to more than 70 different walking and bike tours for two adults.
Program Member Expectations
Program members are expected to attend each monthly program and make it a priority on their calendar. We do understand that sometimes, life happens, and you may be able to attend a program.
At each monthly program, we expect program members to actively participate and engage with their fellow program members and community members.
Get Started!
Please complete the application found below. Completing this form is the first step in the application process; it does not obligate you to join the class. The application deadline for the 2024 Young Professionals Program is Friday, March 15, 2024.
After you submit your application, we will set up a time for a 10-15 minute phone call to discuss the program and your interests in Buffalo architecture, history, and more, and answer any questions you have about the program.
Questions? Please contact Executive Director Brad Hahn at brad@explorebuffalo.org with any questions.